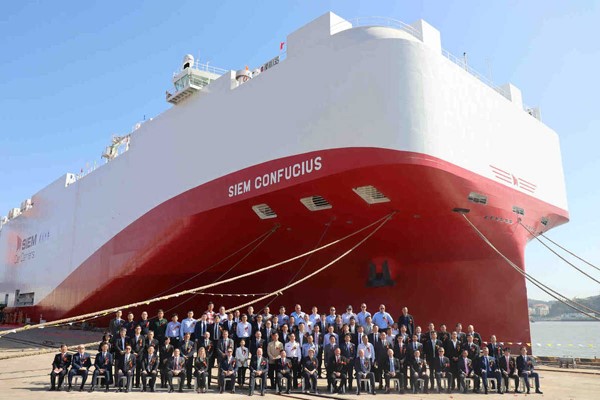 The Volkswagen Group announced through a press release that from 2020 it will be the first car manufacturer to use LNG merchant ships to transport cars. The choice of the German company aims to reduce the emissions produced by the transport of goods and products, as pointed out by Thomas Zernechel, Head of Volkswagen Group Logistics.
LNG system will be used on two ships of Siem Car Carries, named Siem Confucius and Siem Aristotle, launched in Xiamen, China. 200 meters long and 38 wide, with 13 car bridges and a capacity of 7.5000 tons, the two ships will be able to transport each one 4,700 vehicles of the Group's model mix along the ocean routes between Europe and North America.
Both the ships are powered by a 12,600 kW dual-fuel marine engine with direct injection and exhaust gas treatment from MAN Energy Solutions. In addition to liquid, deep-frozen natural gas, they can also be operated with environmentally friendly e-gas produced via Power-to-X or biogas. In eco-speed mode, the ships are running 16.5 knots (30.6 km/h). With their two tanks, each holding 1,800 cubic meters, the transporters have similar vehicle capacities and ranges compared to conventional heavy oil-powered ocean freighters, but thanks to LNG they can reduce carbon dioxide emissions by up to 25%, nitrogen oxide emissions by up to 30%, particulate matter by up to 60% and sulphur oxide emissions by up to 100%.
"We believe that the switch to LNG as marine fuel is the most important basis for a maritime energy revolution," commented Uwe Lauber, MAN Energy Solutions CEO.