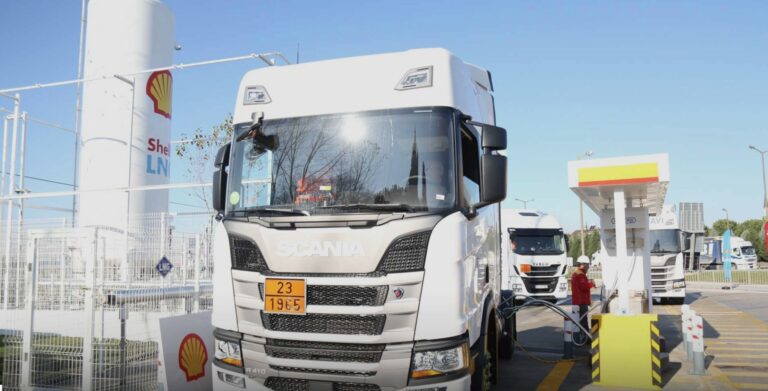 Shell & Turcas Petrol, a joint venture between the international leader in natural gas and the main Turkish operator of road fuel distribution, has opened the first LNG station for heavy transport in the country. It is the first LNG refueling point on the other side of the Mediterranean.
The station is located in Sapanca, on the Anatolian highway between Istanbul-Ankara, which receives the highest volumes of international transport traffic. Turkey is the fourth European country where Shell opens an LNG station for road mobility, after Germany, Belgium and the Netherlands.
The joint venture agreement between Shell Turkey and Turcas Petrol Sa, which entered into operation on July 1, 2006, concerns retail and wholesale sales, the marketing and distribution of fuels and lubricants; Turcas holds a 30% stake.
On the occasion of the inauguration of the plant on 14 January, Turcas Petrol marked this opening as the beginning of a new era in Turkey's heavy road transport, with the offer of a new alternative fuel . It is the company's response to the growing demand for alternative energy sources in Turkey..
The opening ceremony of the station was attended by Deputy Governor Kurseli Dursun Balaban, the Director General of the Ministry of Transport and Infrastructure Cem Murat Yildirim, the President of Shell Turkey Ahmet Erdem, the CEO of Shell & Turcas Felix Faber, the CEO of Doğuş Otomotiv Ali Bilaloğlu and IVECO director for Turkey Hakkı Isinak.
Cem Murat Yildirim of the Ministry of Transport said he wanted to increase the number of LNG refueling stations to support the logistics sector: "In this way, we will be able to see the increase in the number of LNG trucks on the roads of a period of very short time."
Ali Bilaloğlu, Scania's heavy haulage dealer, shares: "The demand for alternative fuel vehicles will increase rapidly. We expect that the number of LNG vehicles will soon reach 10 percent of the truck fleet in our country."
Shell's Ahmet Erdem stressed that the demand for energy in the world is increasing and that this demand must use cleaner alternative energy sources. LNG is becoming an alternative fuel for the logistics sector in many countries and added: "LNG, which has a lower import cost than diesel, will have a positive impact on the current account deficit if used in road transport."
Source: Globalgasmobility.com