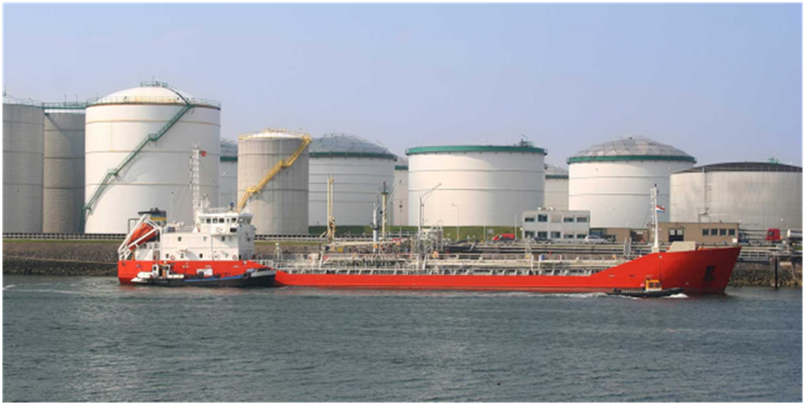 Eni, in collaboration with the Harbor Authority of the Western Ligurian Sea is preparing a concept study for the construction of a LNG deposit in the port of Genoa, intended to provide bunkering services to ships powered by liquefied natural gas that will sail, in the near future, in the Mediterranean and will be able to make a stop under the Lanterna in the Port of Genoa.
The news leaked in recent days when, speaking to the press during a meeting for the Christmas holidays, the CEO of ENI Claudio Descalzis said: "In Genoa we have an important dialogue for a future with lower emissions of maritime traffic. There is a project with the Port System Authority, and we are very happy to collaborate on coastal deposits and the cold chain ".  The rumor was confirmed by Paolo Emilio Signorini, President of the AdSP of the Western Ligurian Sea, who in an interview released to Ship2Shore magazine explained the joint initiative between the Authority and the 'six-legged dog', still under study: "We asked Eni, one of the few companies in Italy able to manage such a project, to prepare a feasibility study for a new deposit of LNG to be carried out in the Port, to perform bunkering operations for LNG-fuelled ships. We are evaluating the various possibilities, both regarding the characteristics of the system and its location.There are two  or three  options, and the purpose of the study  we have commissioned to Eni is precisely that of identifying the appropriate site, among the various possible solutions ".
As known, in Italy there are several projects to build facilities dedicated to storage and handling of LNG, which include the final distribution either by truck, for land customers, or by means of a barge for the supply of gas-powered ships: in Oristano Higas and Edison are respectively working on the construction of two new deposits, while other ongoing initiatives are supported by Decal and San Marco Petroli in Venice and by the PIR Group-Edison alliance in the Port of Ravenna.
It seems therefore too obvious that even in Genoa, where in the next few years (2022) MSC Cruises should bring its first LNG-fuelled cruise ships, it was felt the need to act in time to prepare a structure able to allow the refueling of a new generation of vessels, able to respect the sulfur emissions limits established by the IMO, which will come into force starting from 2020.